Essential Plus Aftercare Pack
Regular price

$57.50 AUD

Sale price

$52.50 AUD

Essential items you should have for your tattoo aftercare.
Tell me more

After getting a tattoo, it is important to take proper care of it to ensure it heals well and looks vibrant for years to come. Here are the essential items you should have in your tattoo aftercare pack:

1. 50mL Soothing Foaming Wash: A tattoo wash with anti-inflammatory ingredient to gently clean and soothe the skin with natural pain relief for fast recovery. Click here for more information on the product.

2. 50mL Premium Tattoo Aftercare: A premium balm made with skin-loving natural ingredients, vitamins, and antioxidants to protect your new tattoo and provide optimal healed results. Click here for more information on the product.

3. FlexiSkin Tattoo Bandage 10cm x 15cm (6 sheets): A medical grade transparent bandage suitable to protect the wounded skin from bacteria thus reducing the risk of infection during the healing process. Click here for more information on the product.
Directions

1. Clean your tattoo with the gentle Soothing Foaming Tattoo Wash to comfort sensitised skin and help calm inflammation.

2. Always wash your hands first before touching your new tattoo. Preferably apply Premium Tattoo Aftercare balm with the washed hygienic spatula supplied.

3. Apply a thin layer of tattoo care balm 4-5 times a day or as needed over your tattoo. 

4. Peel paper backing off from the centre to expose the adhesive side of the FlexiSkin bandage.

4. Apply bandage over the area wound and apply light pressure on the film working from the centre out. Once covered, remove the clear plastic cap sheet peeling back from the perforated cut out.
Ingredients

Tattoo Aftercare Balm
Safflower Oil, Sunflower Oil, Coconut Oil, Beeswax, Shea Butter, Jojoba Oil, Natural Vitamin E, Rosehip Oil, Lavender Oil, Olive Oil, Soya Bean Oil, Certified Organic Chamomile German Blue Oil, Calendula Flower Extract, Targetes Erecta Flower Extract

Soothing Foaming Wash
Active ingredients include: CONTACTICEL™ Bio-Organic Technology – a skin-purifying active ingredient derived from red algae (Acrochaetium moniliforme) to protect against bacterial infections.

Other extra soothing anti-inflammatory ingredients include Green Tea Extract, Camellia Tea Oil, Wheatgerm Oil, and Vitamin E, Copaiba Oil, Chamomile and Calendula for even faster recovery.

Learn more on our Ingredient Directory page.
Share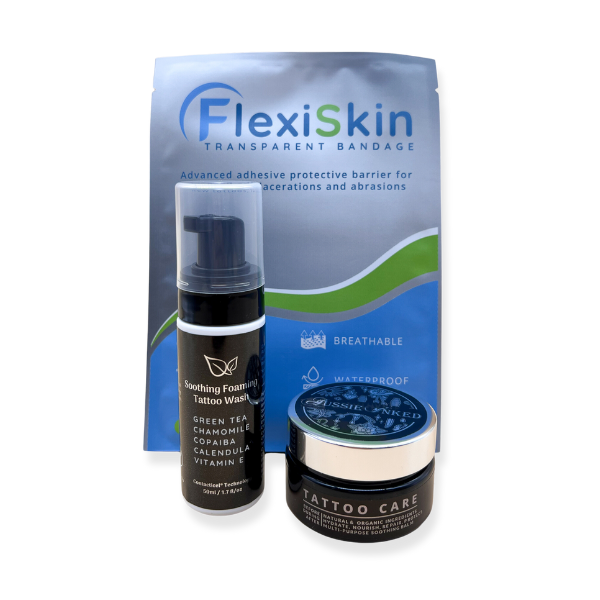 The Ultimate Way to Protect Your Tattoo
Step 1 - Clean

Step 2 - Soothe

Step 3 - Protect