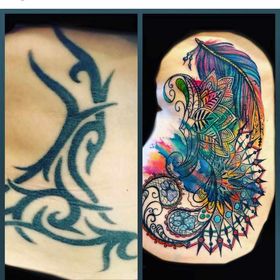 Testimonials
I have been using Aussie Inked for the first time on my new cover up tattoo, I purchased the after care pack and absolutely love it.
My artist was amazed at healing and colour. I love my cover up of a 17yr old tribal design. - Alana H
Awesome results!
I first purchased this product at the Melbourne tattoo and body art expo after trying it at the stall. It brought out the colours and gave my tattoo a depth and intensity that made it look freshly done! After a week of applying it daily my skin was softer and firmer, a bit like inflating a flat tyre actually, lol! I think I have reordered about 6 times now and after trying other products as well, nothing compares to the results I get from this one, will stick with the best now 👍- Steve L. (100mL Premium Tattoo Aftercare)
Twin Pack Premium Tattoo Aftercare

Fantastic

I love this cleanser, not only does it remove brow pigment with ease, it smells amazing! And easy to spray :) highly recommend for cosmetic tattooing - Angela L. (Active Recovery Micellar Water)

Best after-care hands down!

My artist put me into this brand and I am obsessed. This is the best after-care product you can buy. My tattoos have never healed so well! Do yourself a favour and buy this product! - Holly L. (50mL Premium Tattoo Aftercare)
Awesome product!
Loving this product and the customer service is as 5 Star as the product itself. I used this on a fresh full sleeve and the sooth and effect was noticed immediately. Healing has been great and the vibrancy post application is fantastic. My artist advised no lotions or balms for a few days post inking and a natural product once I'd start hydration aftercare so this was perfect!! Loved it so much I got my mate to go for Aussie Inked Aftercare and my hype must of been so much he went ahead and purchased the 1ltr tub hehe. Dave from customer service has been fantastic at answering my calls and questions! Will be returning and directing more people Aussie Inked's way for sure! Thank you Aussie Inked! - Rob. C (100mL Premium Tattoo Aftercare)
Love Love Love it!!!

I bought both the balm and the foaming wash for my newest tattoo and it has been a breeze no itching and it healed in no time with no worries. Highly recommend. - Kelly G. (Soothing Foaming Tattoo Wash)

Thank you Aussie Inked 

A beautiful all-natural product to protect and help heal the skin of the client and the artwork of cosmetic tattoo artists made in Australia, love xoxo Great texture, great ingredients, amazing packaging. - Kerrie M. (Cosmetic Tattoo Aftercare)

Best product

This Glide is amazing to use in the process of applying Tattoos. Doesn't remove stencil, doesn't clog up the needles and keeps the ink from staining where you are working. Love it. Regards TMD - Kenny T. (Soothing Tattoo Glide- 1 LITRE)