50mL Soothing Foaming Tattoo Wash
Regular price

Sale price

$14.00 AUD
A tattoo wash with anti-inflammatory ingredients for fast recovery.
Tell me more

The FIRST and ONLY foaming tattoo wash infused with active plant ingredients that:

gently cleans and soothes the skin with natural pain relief
provides antibacterial protection
hydrates
reduces redness
help kick start the recovery process.

More Information

Our Soothing Foaming Wash:

gently cleans without harsh ingredients, purifying the barrier without stripping the skin or making it feel tight
has active plant extracts work to purify skin cells while vitamins are a source of antioxidants to calm inflammation and restore skin health.
provides a non-oily hydration that is quickly absorbed without blocking pores.
helps to protect against the body's natural inflammatory response mechanism and calm the skin
features the subtle aroma of fresh plant extracts
Directions

1. Remove your wrap within 2-5 hours.

2. Always wash your hands first before touching your tattoo.

3. Shake well, pump out enough product to spread a thin layer of foam over your tattoo and gently massage in a circular motion.

4. Rinse with cool to lukewarm water.

5. Pat dry with a clean paper towel or air dry.

Use two to three times a day over the healing period.

Our product range is extra gentle however we always recommend doing a patch test first. If you have a reaction, discontinue use immediately and see your General Practitioner.

Ingredients

Active ingredients include: CONTACTICEL™ Bio-Organic Technology – a skin-purifying active ingredient derived from red algae (Acrochaetium moniliforme) to protect against bacterial infections.

Other extra soothing anti-inflammatory ingredients include Green Tea Extract, Camellia Tea Oil, Wheatgerm Oil, and Vitamin E, Copaiba Oil, Chamomile and Calendula for even faster recovery.


Learn more on our Ingredient Directory page.
why go natural?

Using natural skin care products on tattooed skin can
provide a number of benefits, including:

Reduce Irritation: Natural skin care products typically contain fewer synthetic ingredients and harsh chemicals that can cause skin irritation or allergic reactions. This is especially important for tattooed skin, which may be more sensitive and prone to irritation.
Nourishment and Hydration: Natural skin care products often contain ingredients that are rich in nutrients, vitamins, and antioxidants that can nourish and hydrate the skin. This can be especially beneficial for tattooed skin, which may need extra moisture and nourishment to maintain its vibrancy and prevent fading.
Preserve Tattoo Color: Some natural skin care ingredients, such as aloe vera, shea butter, and coconut oil, can help to preserve the color of tattoos and prevent them from fading over time. This is because these ingredients can help to maintain the skin's natural moisture balance, which can help to protect the tattoo from damage.
Protection from UV Rays: Natural skin care products often contain ingredients that
provide natural sun protection, such as soya bean oil, olive oil and cocunut oil. This can be beneficial for tattooed skin, which may be more susceptible to sun damage and fading.
Environmentally Friendly: Natural skin care products are often made with environmentally friendly and sustainable ingredients, which can be better for the planet and reduce the risk of harmful chemicals entering the environment.

Overall, using natural skin care products on tattooed skin
can be a great way to protect and nourish the skin, while also maintaining the vibrancy and longevity of tattoos.
Share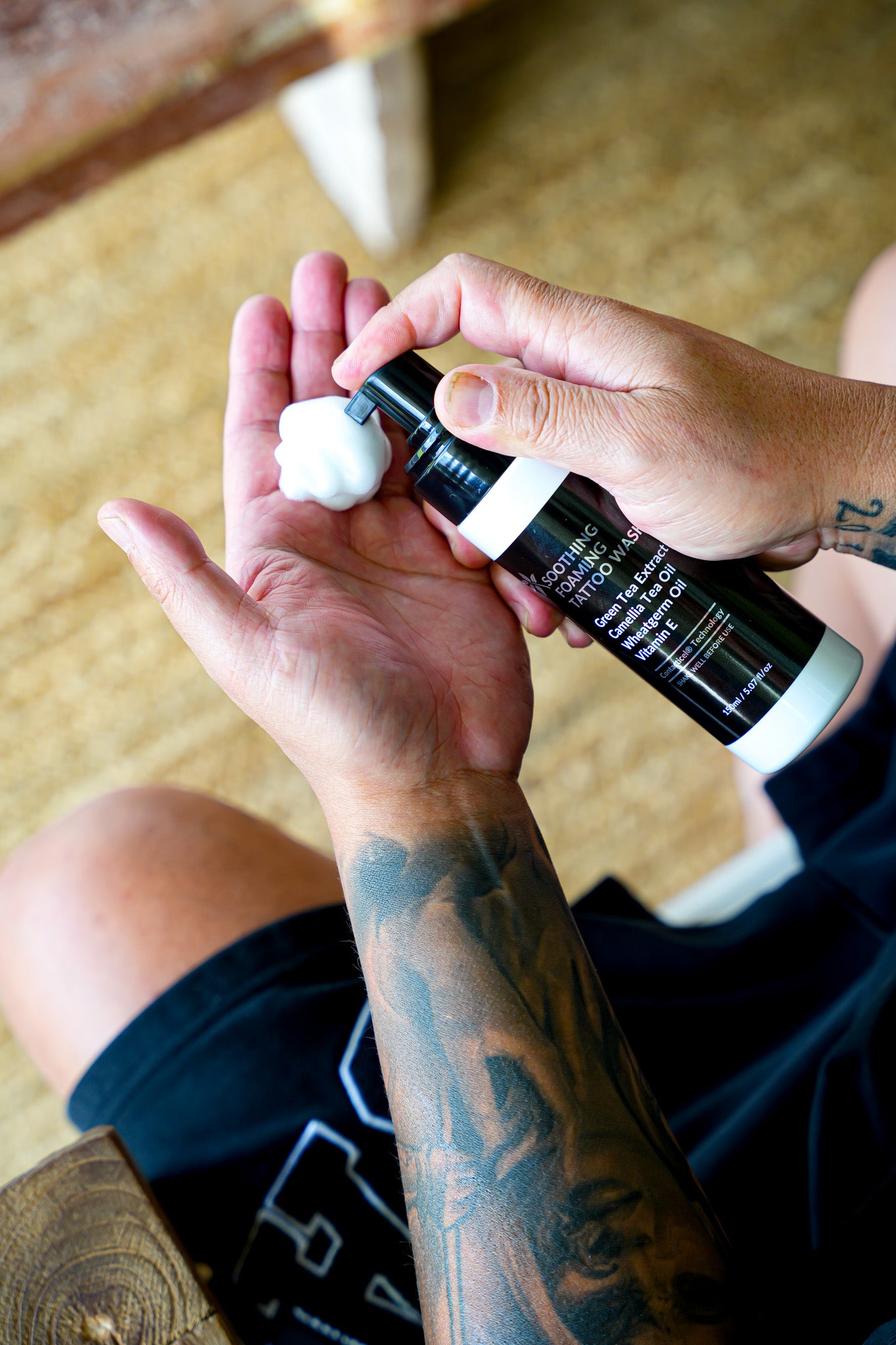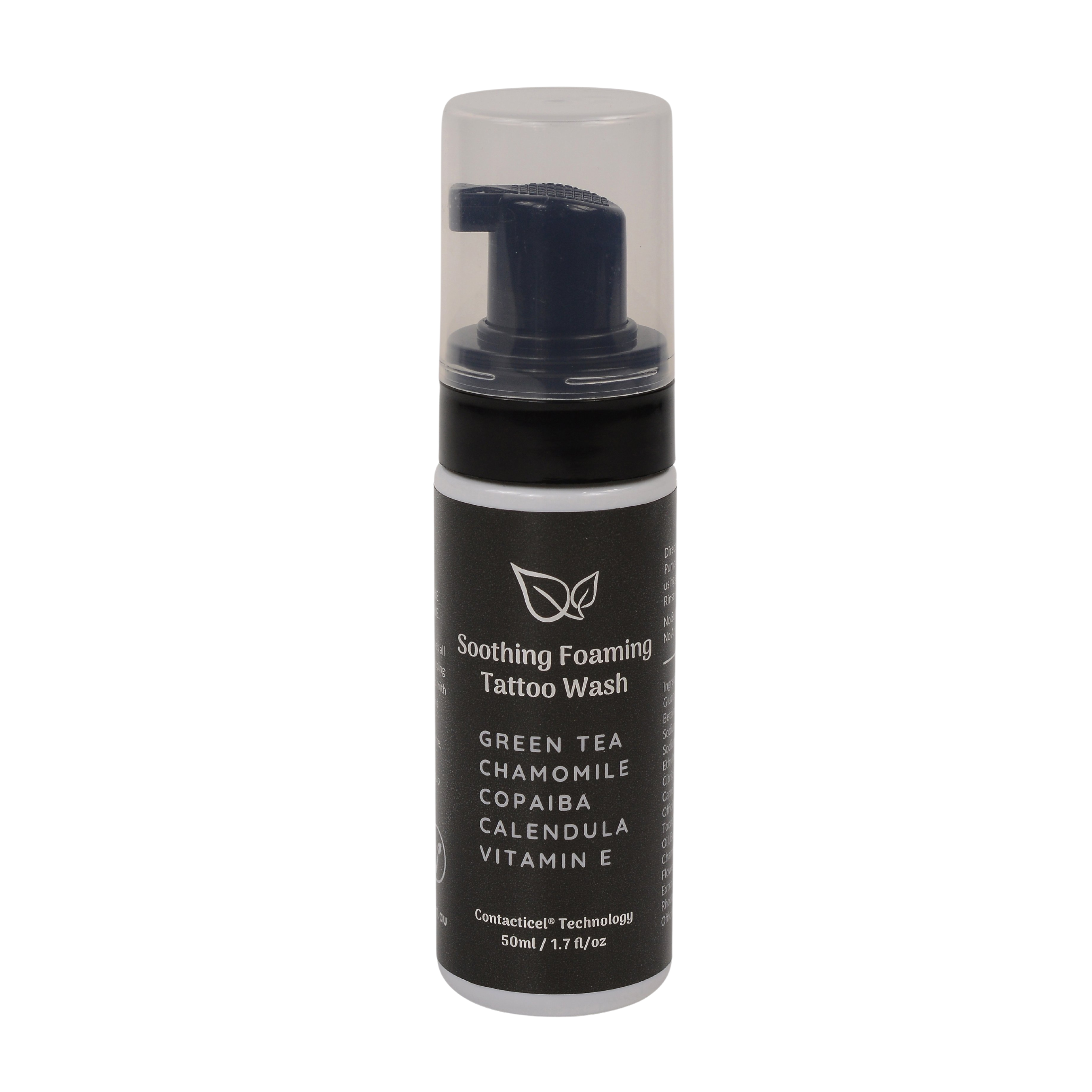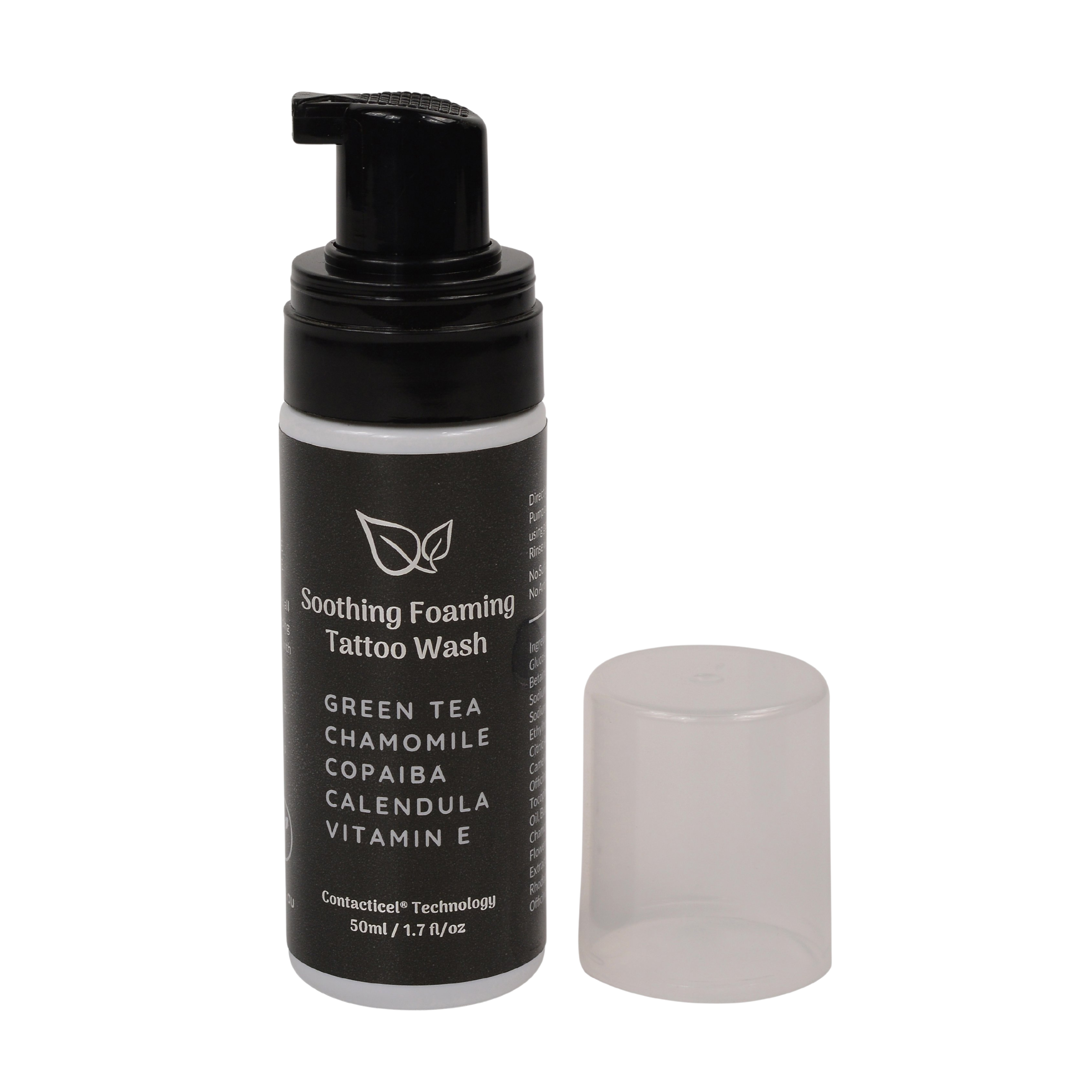 The Ultimate Way to Protect Your Tattoo
Step 1 - Clean

Step 2 - Soothe

Step 3 - Protect