20mL Premium Tattoo Aftercare
Regular price

Sale price

$16.00 AUD
A premium natural balm formulated to protect and heal your new tattoo.
Tell me more

A premium balm made with skin-loving natural ingredients, vitamins, and antioxidants to protect your new tattoo and provide optimal healed results. Our multi-purpose formula can be used in all stages of the tattooing process and more!

BEFORE tattooing:  Use balm in advance of your session to improve skin health and elasticity in peak readiness for your new tattoo. Serves as a soothing desensitizing antibacterial tattooing glide, providing a healthier alternative to nasty petroleum products.

DURING tattooing: Our balm will not remove stencils during tattooing, in fact it works on reducing skin stress, redness, inflammation and irritation, helping ink go in easier.

AFTERCARE Balm Benefits: 

Lock-in ink formulation with water resistant barrier
Active anti-bacterial & anti-microbial protection
Avoid scabbing and flaking of your new tattoo art
Stops the itching to calm sensitised irritated skin
Soothes to reduces redness & inflammation
Keeps tattoos looking bright, fresh and sharp
Hydrates and nourishes without any sticky residue
Non-comedogenic, won't block pores for faster recovery
Rejuvenates old tattoos and brings colour back to life
Enjoy the subtle aroma of fresh botanical extracts

Our product range is made for sensitive tattooed skin, however we always recommend a patch test first. If you see a reaction, discontinue use and see your General Practitioner.

JOIN THE HEALTHY SKINCARE REVOLUTION

WE SAY NO TO:

Mineral Oil, Parabens, Artificial Perfumes, Artificial Colours, Sulphates, SLS, Lanolin, Palm Oil
Directions

1. Clean your tattoo before applying product. We offer gentle Soothing Foaming Tattoo Wash developed to comfort sensitized skin and help calm inflammation.

2. Always wash your hands first before touching your new tattoo. Preferably apply product with the washed hygienic spatula supplied.

3. Apply a thin layer of tattoo care balm 4-5 times a day or as needed over your tattoo.   
Ingredients

Safflower Oil, Sunflower Oil, Coconut Oil, Beeswax, Shea Butter, Jojoba Oil, Natural Vitamin E, Rosehip Oil, Lavender Oil, Olive Oil, Soya Bean Oil, Certified Organic Chamomile German Blue Oil, Calendula Flower Extract, Targetes Erecta Flower Extract

Learn more on our Ingredient Directory page.
Why go natural?

Using natural skin care products on tattooed skin can
provide a number of benefits, including:

Reduce Irritation: Natural skin care products typically contain fewer synthetic ingredients and harsh chemicals that can cause skin irritation or allergic reactions. This is especially important for tattooed skin, which may be more sensitive and prone to irritation.
Nourishment and Hydration: Natural skin care products often contain ingredients that are rich in nutrients, vitamins, and antioxidants that can nourish and hydrate the skin. This can be especially beneficial for tattooed skin, which may need extra moisture and nourishment to maintain its vibrancy and prevent fading.
Preserve Tattoo Color: Some natural skin care ingredients, such as aloe vera, shea butter, and coconut oil, can help to preserve the color of tattoos and prevent them from fading over time. This is because these ingredients can help to maintain the skin's natural moisture balance, which can help to protect the tattoo from damage.
Protection from UV Rays: Natural skin care products often contain ingredients that
provide natural sun protection, such as soya bean oil, olive oil and cocunut oil. This can be beneficial for tattooed skin, which may be more susceptible to sun damage and fading.
Environmentally Friendly: Natural skin care products are often made with environmentally friendly and sustainable ingredients, which can be better for the planet and reduce the risk of harmful chemicals entering the environment.

Overall, using natural skin care products on tattooed skin
can be a great way to protect and nourish the skin, while also maintaining the vibrancy and longevity of tattoos.
Share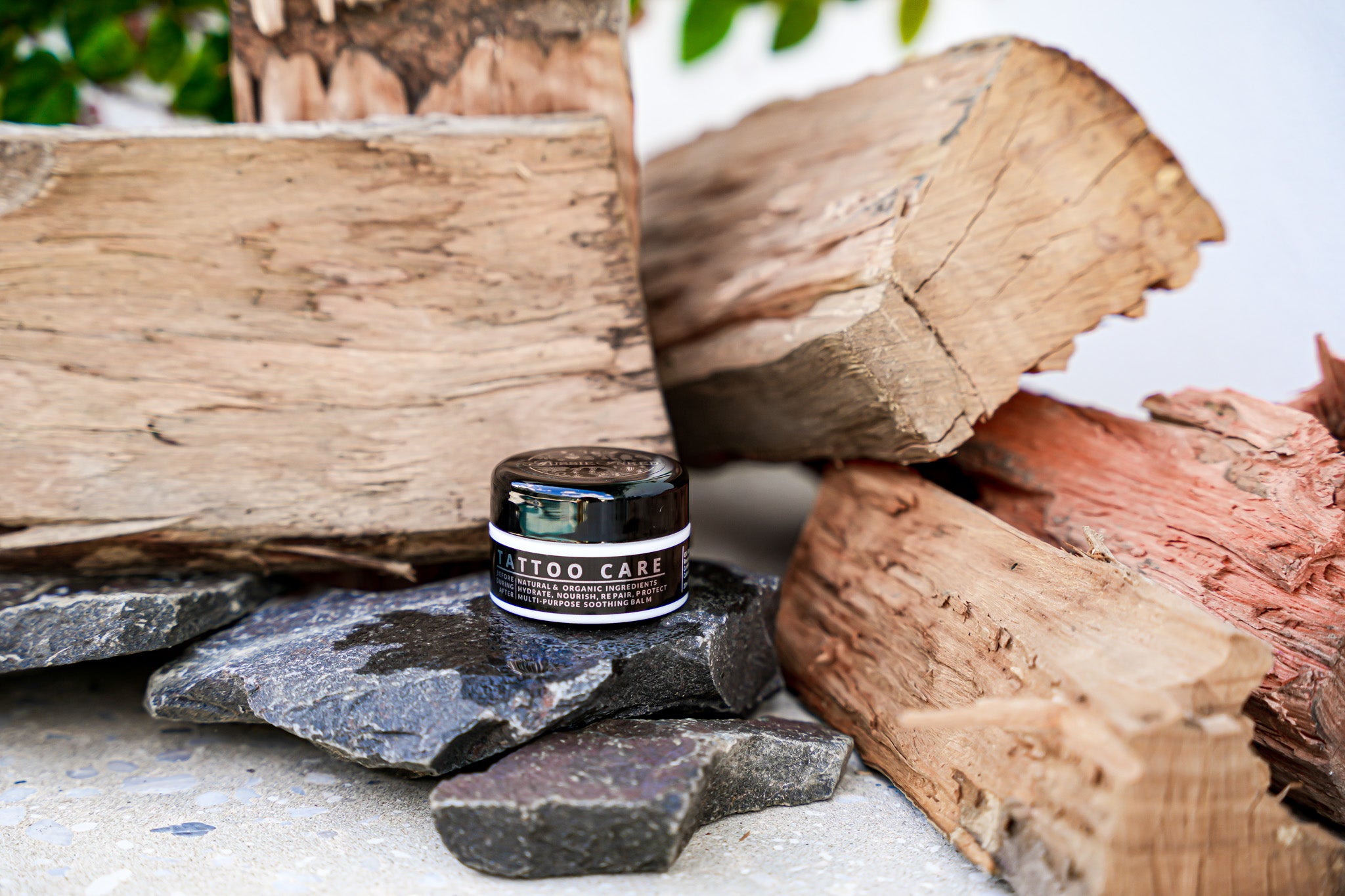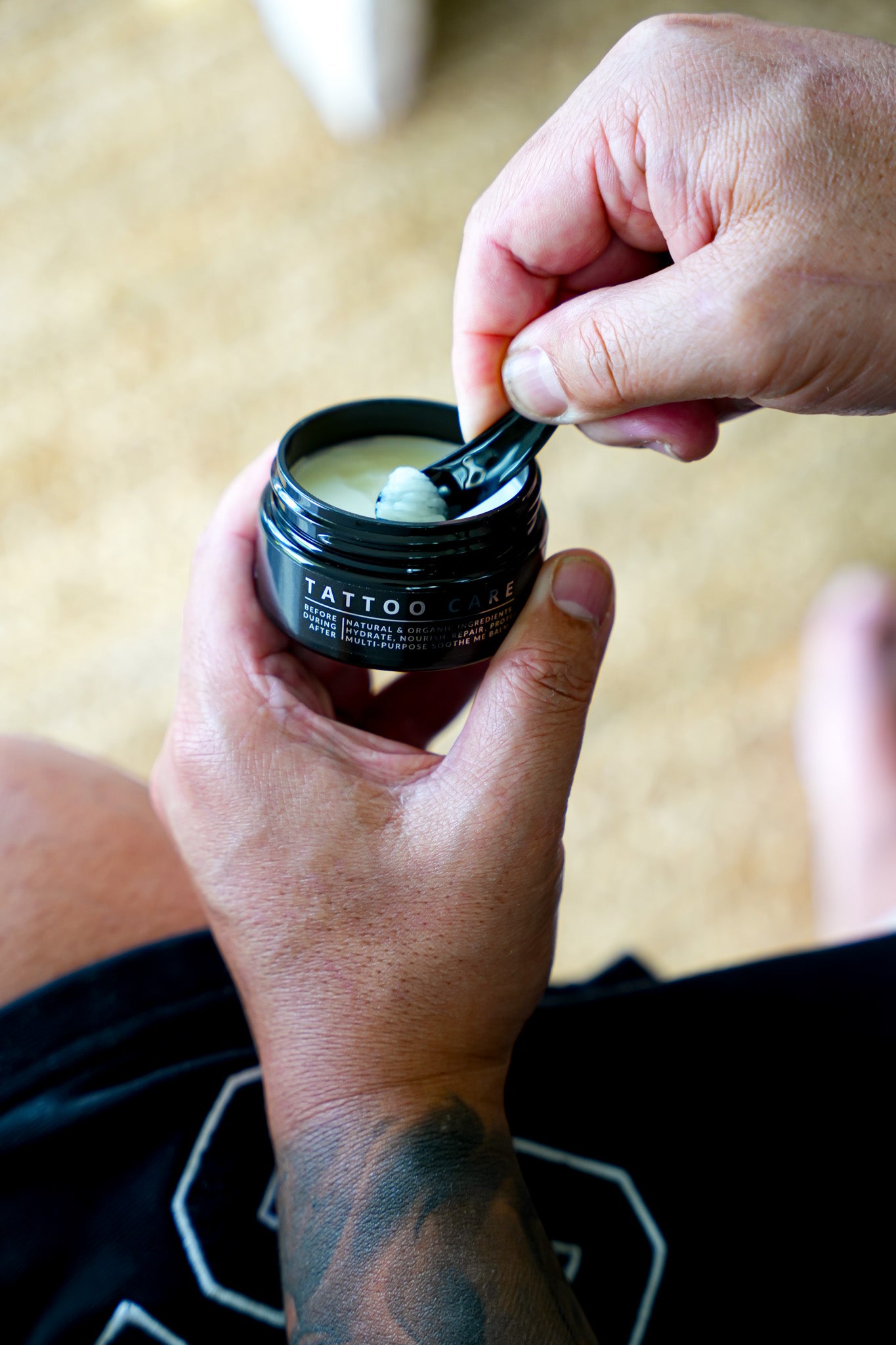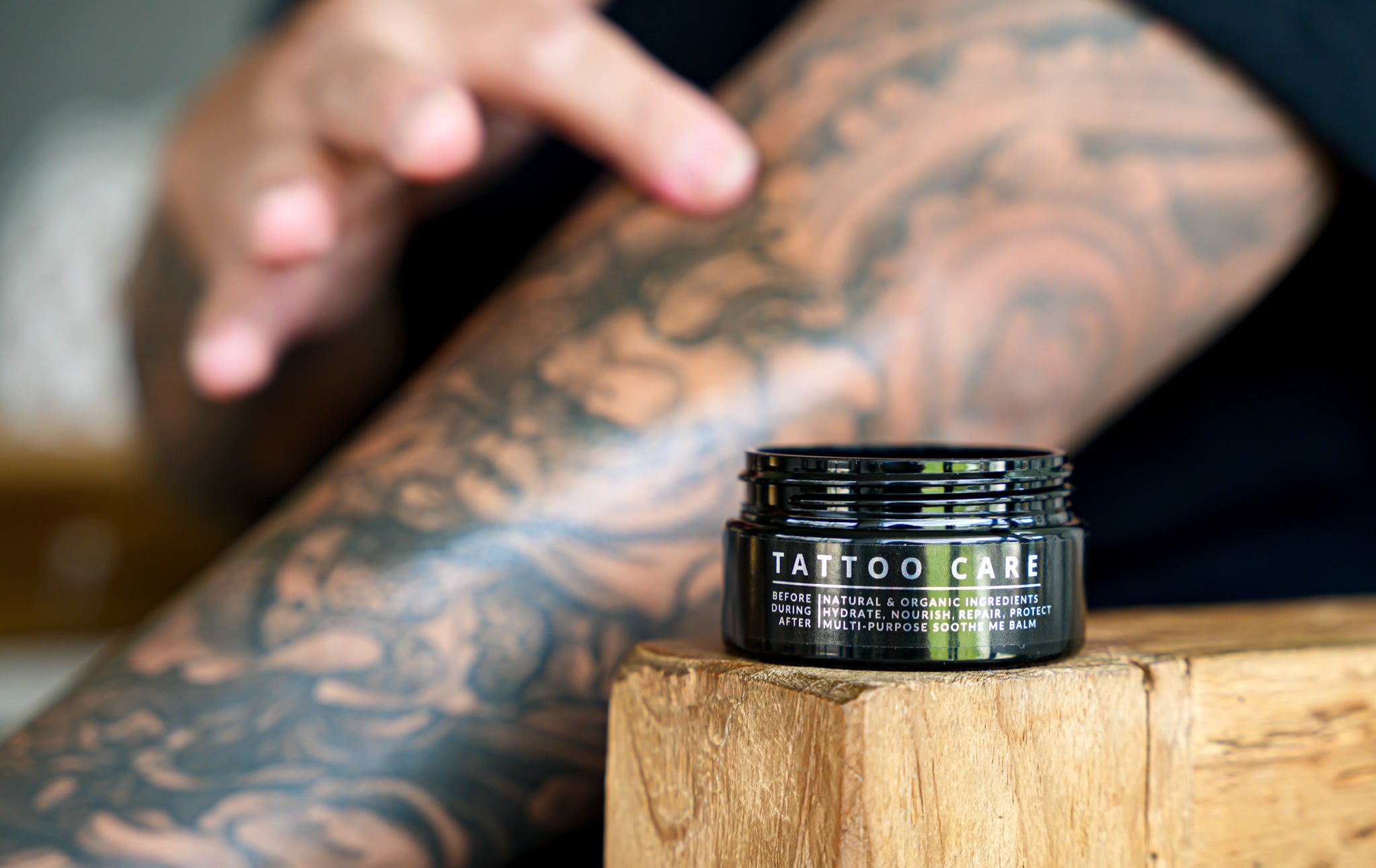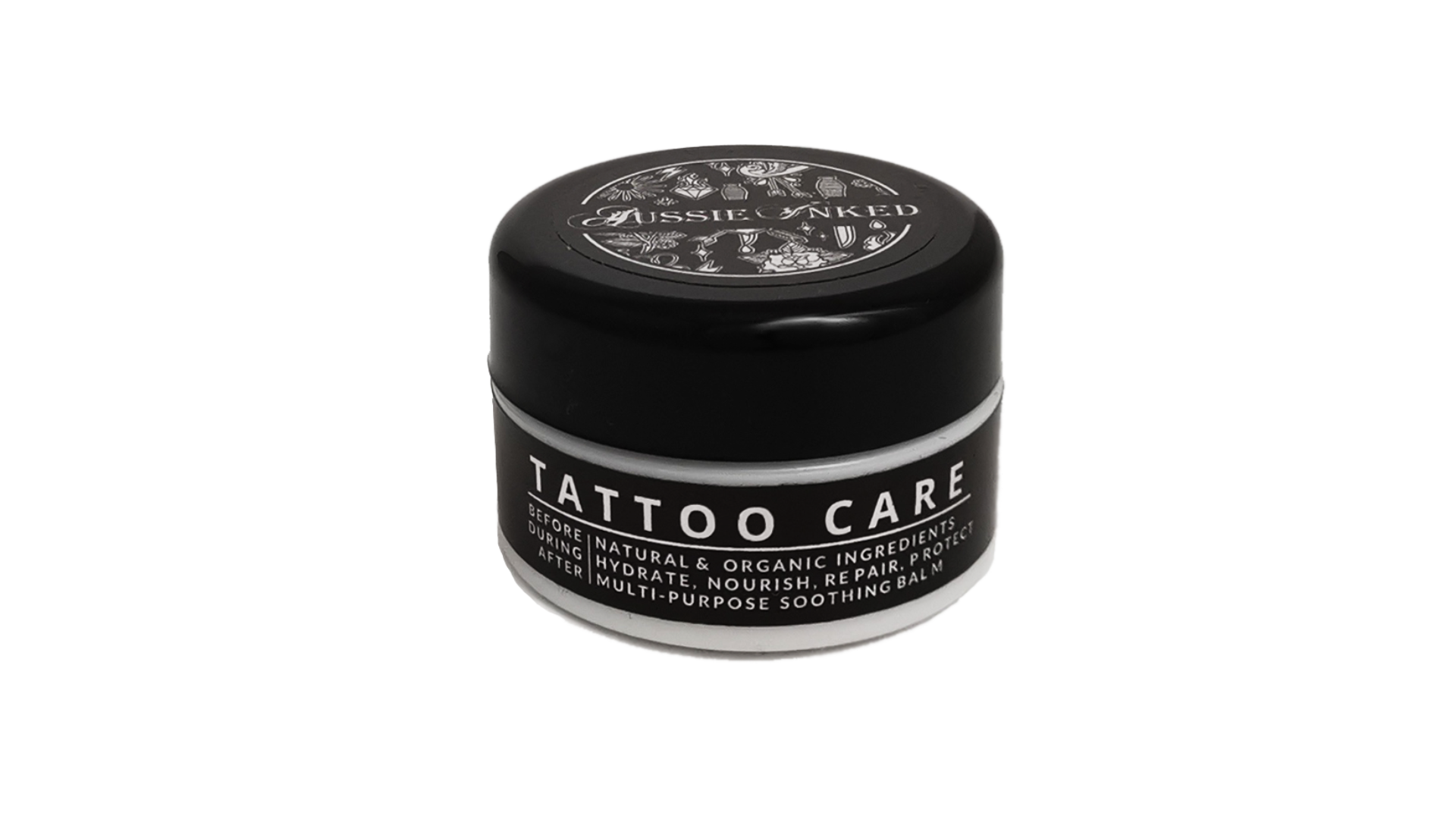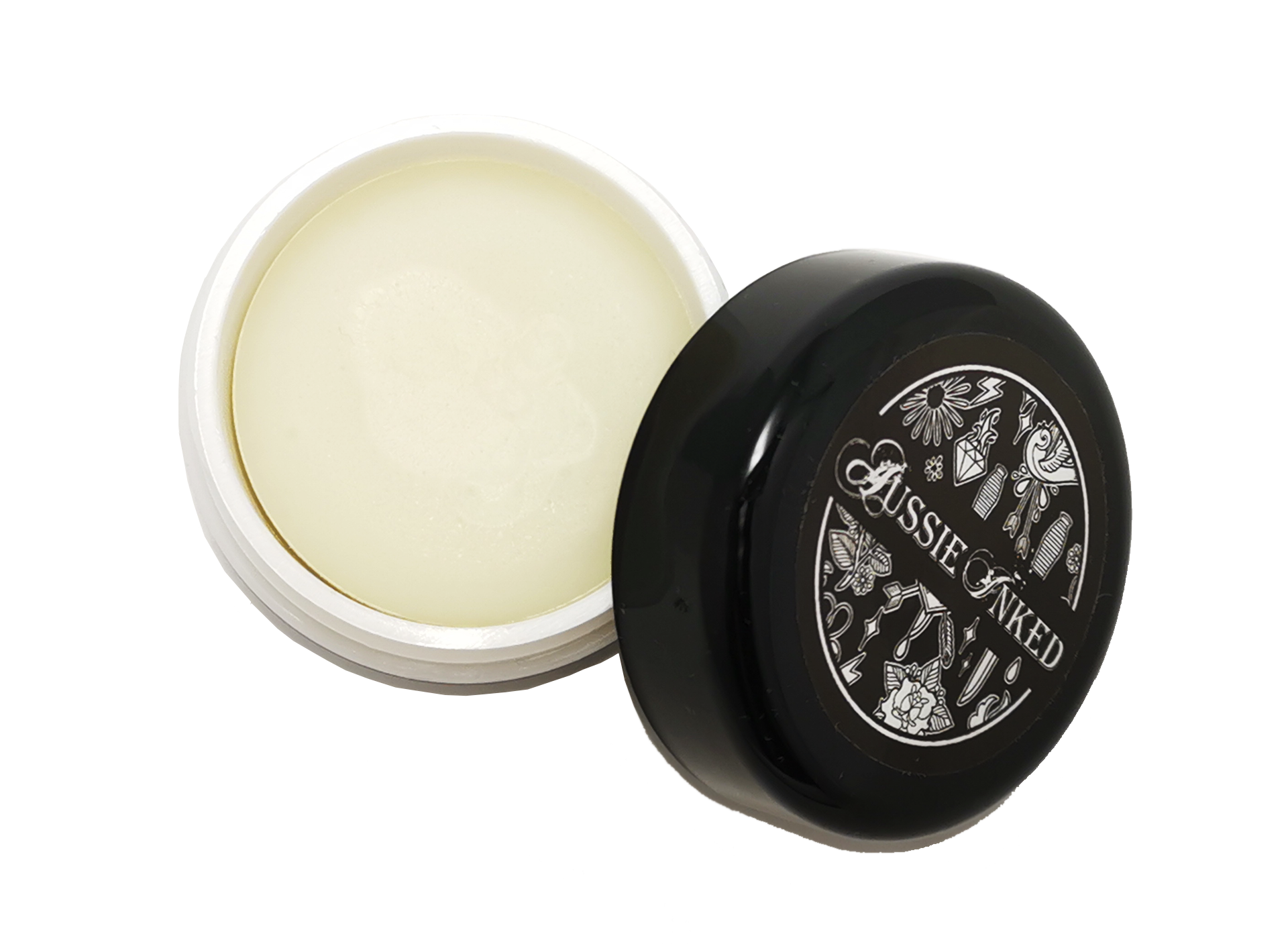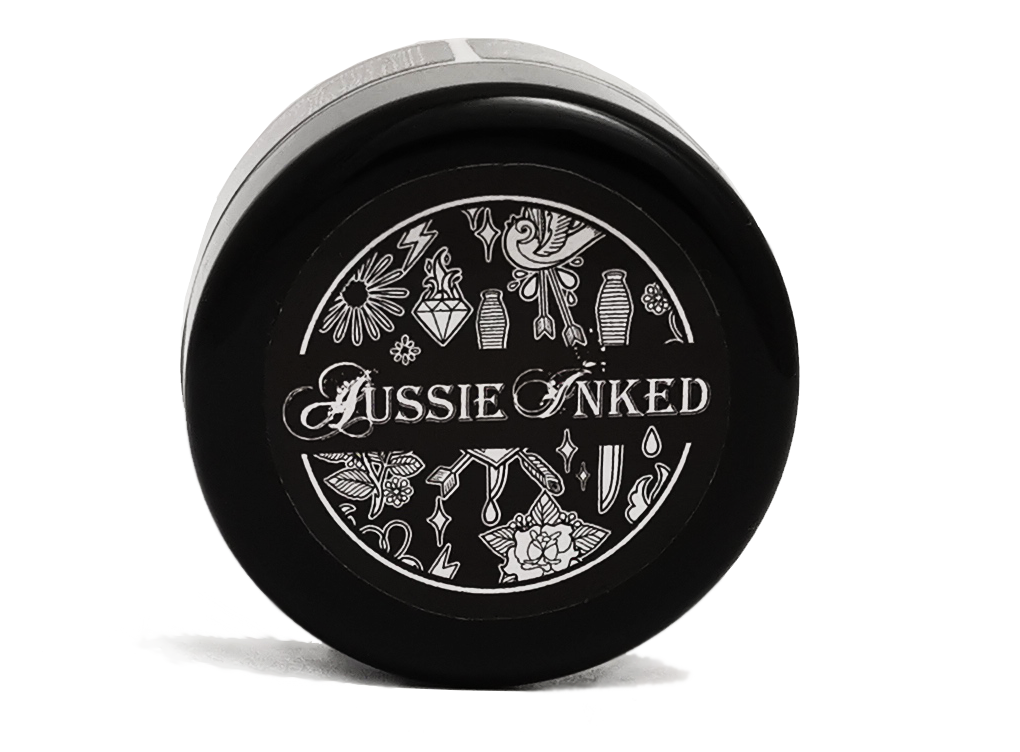 The Ultimate Way to Protect Your Tattoo
Step 1 - Clean

Step 2 - Soothe

Step 3 - Protect